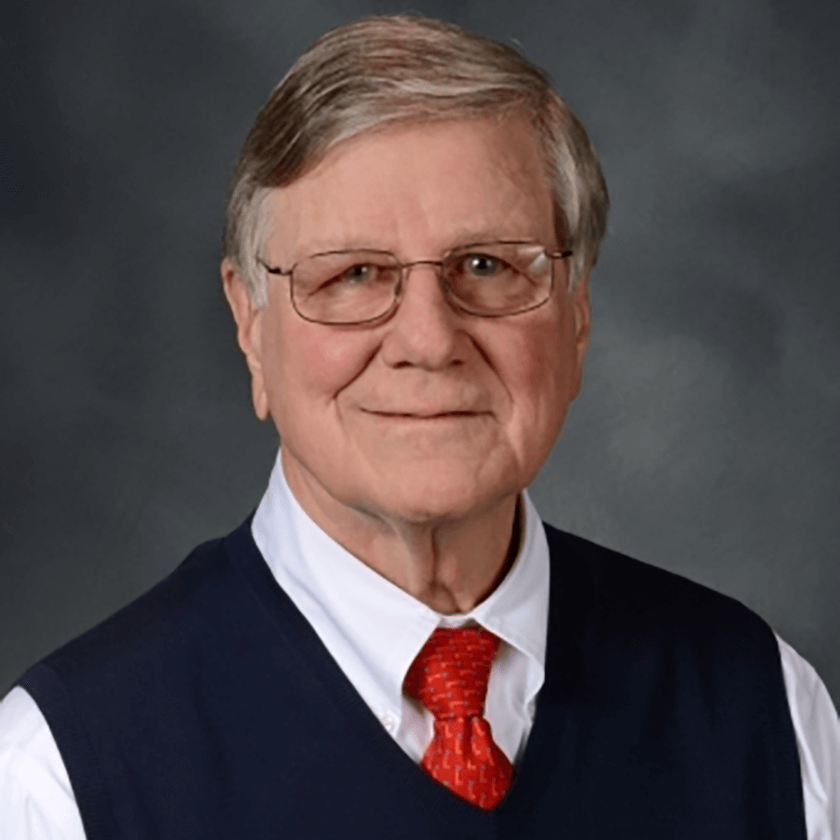 Ronald Hudson, M.D. is a board-certified, Columbus, GA family medicine practitioner. A lifelong Columbus native, he cares for the families in Georgia and Alabama and has served as a primary healthcare provider throughout a dedicated medical career of nearly 50 years. Watching his patients grow has been a privilege, but no privilege has been more special than seeing his own family grow. Dr. Hudson is married to his wife, Janice, and they have five adult children: Stephanie, Jeffrey, Kathryn, Christopher, and Mary Beth.
After studying premed at Columbus College and receiving a bachelor's from the University of Georgia, Dr. Hudson completed his medical degree at Medical College of Georgia in 1972. His storied career has seen him proudly offer medical care to families in private practice settings throughout the Columbus, GA area. Dr. Hudson has extensive expertise when it comes to care throughout a person's whole life. Dr. Hudson is certified through the American Board of Family Practice.
Dr. Hudson is a member of the following societies and organizations:
American Board of Family Practice
American Academy of Family Practice
Alpha Omega Alpha Honor Society
Medical Association of Georgia
Georgia Academy of Family Physicians
Muscogee County Medical Society
Specialties and Expertise
Dr. Hudson specializes in family medicine, and he is thrilled to offer a top-of-the-line, affordable medical service package for families at Concierge Medicine of Columbus. He is also skilled at educating families about preventive medicine and what individuals can do to maintain their health for long into the future.
Reviews
"Dr. Hudson and his team are the absolute best! They are very attentive to patient needs and respond quickly. Additionally, Dr. Hudson goes way above and beyond to take time to talk to his patients and never rushes people through."
J.M.
Google
"Mary and I have been seeing Dr. Hudson for over twenty years. We have enjoyed a long time relationship with him. Now that he sees us at Concierge Medicine of Columbus, it is truly a blessing to be able to have access to his services on an on-call basis. He sees us promptly and his staff is excellent. If you are looking for doctors in Columbus, I highly recommend Concierge Medicine of Columbus. Check Them Out"
R.R.
Google
"Very friendly staff and the Nurse Practitioner is very understanding and knowledgeable. A+ in my book. I just moved here from the Atlanta area, and needed to find a new primary care physician. I'm so pleased that I have found this office! Dr Hudson is one of the best, I'm told!"
T.H.
Google
"We moved from the Columbus area but drive 7 1/2 hours back to Concierge Medicine of Columbus. We ❤️ our Doctor, Ronald Hudson and the staff. The availability of medical help at any time is much appreciated!"
P.M.
Google
"Love, love, love this practice. It has been worth every penny to be a part of this practice. My husband and i have been Dr. Hudson's patient for more than 40 years. We didn't want to go to anyone else. Dr. Hudson and his staff are the most caring people and we could not be happier. I had lung cancer and needed a little extra attention at times and Dr. Hudson and Trina made me feel as I was the only patient they had. I would recommend this practice to everyone. It is worth that extra money to put out for the extra attention you get. Can't believe that there wss a negative going to them. As we all know can't please everyone."
M.R.
Google